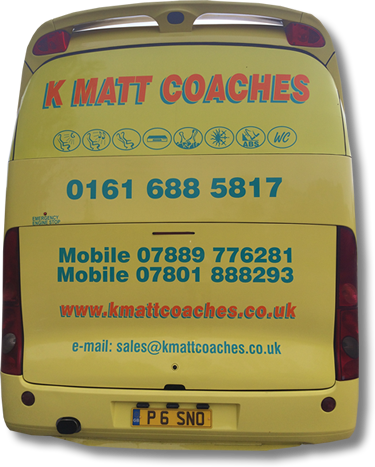 K Matt Coaches are a family run company that has been in coach hire industry for 25 years. We are situated in the North West are of the country, in Chadderton, Oldham. We are approximately 3 miles from Manchester City Centre, and within easy reach of all major motorway links.
We have been trading for more than 25 years and have always taken pride in the way we look after our customers. We understand that the needs and expectations of every customer are different, and it is our aim to recognize these unique requirements and to provide complete customer satisfaction in all aspects.
We are easily recognised by our modern fleet of coaches which we are proud to have served the local community for many years. We have regular work and ongoing contracts from our local councils and schools which has resulted in us have a large customer base.
Being a family run company we are positive that we can give our customers that extra special service as we receive regular requests from our customers for their favourite drivers which helps us to build friendships and ensures that all our journeys are much more enjoyable.
We pride ourselves on the excellent reputation we have earned over the decades.